About MDEG Yoga Institute
MDEG Yoga Sansthan is an International Yoga education centre delivering the highest quality yoga Teacher Training courses, drop in classes, Yoga Retreats and workshops for both beginners and seasoned practitioners at our centres in India and Ireland.
Over the past decade the team at MDEG Yoga Sansthan have established themselves as leading educators in the field of yoga for teacher trainees.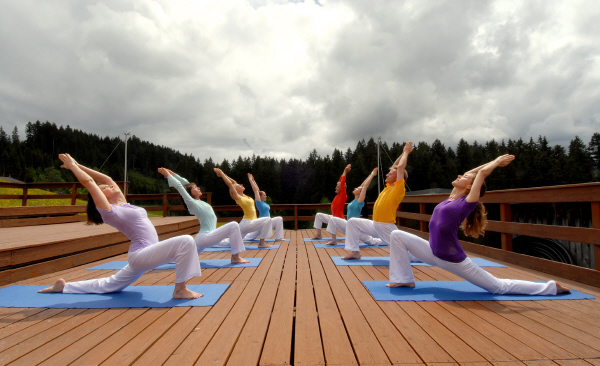 Our Principles
Our Core Value at MDEG Yoga Sansthan is "Honor the Source" and it is through this value that we share our teachings and navigate our professional, personal and philosophical paths. our institute mission is the belief that yoga is a holistic science and discipline that should be approached through the Eight Limbs of Yoga to foster balance and increase well-being.
We believe that yoga should inspire, improve, challenge and nurture the individual to develop a healthy and well rounded spiritual and physical practice. Our philosophy and method has been embraced by students from all backgrounds aged 18-80 and it is through our respect of the individual that this is possible. We take great pride in our trainee graduates who have spread this philosophy around the world.
We believe that yoga should increase not only the wellness of the individual but also the community in which it is delivered. We aim to increase health, happiness and wellness through the practice of yoga and we thank India for the gift of yoga by honoring the source and maintaining the traditions so generously shared with us.
Our Values
Improve well being, health and happiness through yoga
Respect the source of yoga and honour those before us
Cherish individuality
Love and protect the environment
Give back to India in thanks for the gift of Yoga
Our Team
Behind every successful organisation is a strong team and our pool of teachers, managers, administrators and centre staff pride themselves in professional delivery of our programs and services across the board. We believe in hiring highly skilled and compassionate teachers to deliver our teachings. Our team undertake regular training and professional development to ensure quality of learning for our clients. You can learn more about all of our teachers here.
Our highly experienced management team have guided and assisted hundreds of students from around the world with various aspects of making the journey to India to fulfil their dreams of becoming teachers at the source.